All members must submit 2021 – 22 Assumption of Risk Waiver
Texas A&M Judo Coaches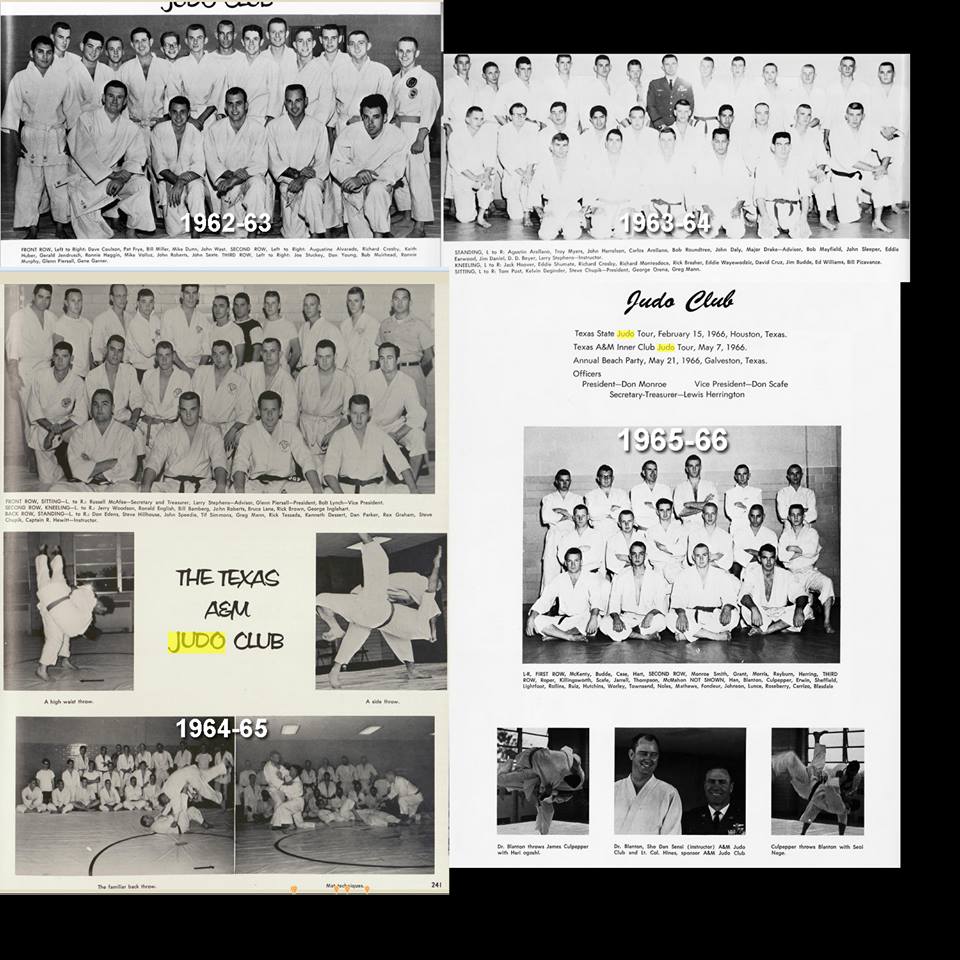 Bob Perez 1993-2022
Dan Gomez 2007-2022
Cory Klemashevich 2015-2021
JF Chamberland 2005-2014
Theo Williams 2000-2005
Hiram Hodges 1992-1995
Dr. Gary Berliner 1988-1993
Dr. Wiley Cunagin 1979-1983
Joe Fuller 1973-1974
Gibbs Dibrell 1973-1974
Neal Schuleman 1973-1974
G. Delberty Antwiler 1971-1972
Dr. Blanton 1965-1966
Larry Stephens 1963-1965
Cpt. Lester R. Hewitt 1962-1964
Coaching Staff History
Bob Perez – 2022,2019,2017,2011 USA World Collegiate Coach / Team Manager
Bob Perez/Dan Gomez – 2022 National Collegiate "Yosh Uchida" Coach of the Year<
Bob Perez – 2018 USA America Games Coach / Team Manager
Bob Perez – 2016 National Collegiate "Yosh Uchida" Coach of the Year
Bob Perez – 2014 National Collegiate Coach of the Year
Bob Perez – 1998 USA World Collegiate Assistant Coach
Texas Collegiate Judo Conference Championships
1st – 1990,1992-1997,2000-2013,2015
2nd – 1991,1998,1999,2014
Mid South Conference – 5 state region TX, OK, LA, AR and MS(2000-2003)
2nd – 2000
1st – 2001-2003
NCJA Southwest Regional Championships 6 state region TX, OK, LA, AR, NM and MS
1st – 2016 – 2022
NCJA Standard Men Final Standing
1st – 2022
2nd – 2010,2004,2000
3rd – 2018,2012,2007,2006,1999
4th – 2017,2015,2014
5th – 2008,2003
6th – 2001
NCJA Standard Women Final Standing
2nd – 2022,2017,1998,1996
3rd – 2019,2018,2016,2011,2006,2005,2001,1999
4th – 2010
6th – 2000
NCJA Novice Men Final Standing
1st – 2022
2nd – 2017,2014,2011,2009,2008,2007
3rd – 2015,2013
4th – 2019,2016
NCJA Novice Women Final Standing
2nd – 2022,2018,2017,2010
3rd – 2015,2011,2009,
4th – 2019,2016,2013
5th – 2014
National Collegiate Judo Association Championships (NCJA) – Host
1992
1998
2010
2014
2017
2022
Judo Scholarships
Texas A&M Judo Scholarship established in 2005
Bob Perez Judo Scholarship established in 2014
Mike and Lori Morgan Judo Scholarship established in 2018
Any current member or any incoming student is eligible for the scholarship. This scholarship is a competitive and will be awarded to individuals based on their judo endeavours.
Associations and Affiliations
Texas A&M University
Texas A&M Department of Recreational Sports
National Collegiate Judo Association
Texas Judo Inc
USA Judo
Friends of Houston Judo
The Texas A&M Judo Team is funded through the Department of Rec Sports which assist the team members in traveling expenses. Although competition is emphasized it is not mandatory. Both men and women are encouraged to join and no experience is necessary.
Texas A&M Judo Team
25-30 members
Practice 4 times a week
Attend 10-12 events per academic year
Regional, State, National and International events
Team weight lifting
No experience is necessary
Cost and Fees
Dues – $85 a semester or $125 a year
Scholarship Recipients exempt from dues
USA Judo federation card for competitors – $70 per year
Tournament expenses covered for ALL members (80-90% of total expenses)
Information on Texas A&M University and Community
2021-22 Coach and Team Leaders
Bob Perez – Coach
Dan Gomez – Coach
Cory Klemashevich – Coach
Dario Maaskant- President
Michael Mutz- VP
Tristan Nguyen – Treasurer
TBA – Safety Officer
TBA – General Officer
TBA – General Officer
TBA – Team Captain
For More Information
Email contact – aggiejudo@tamu.edu
Email contact – bobperez@tamu.edu
PHONE – 979-218-4582